Trending Topics...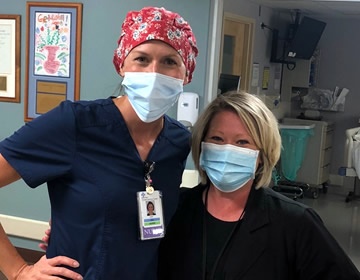 Good things happen to good people. That's what Lisa Thomas firmly believes and why the intensive care unit registered nurse is humbled to have played a role in the recovery of a couple who battled COVID-19 and its complications for months.
Sponsored Content
We created the MSN – Family Nurse Practitioner program so that working nurses like you could enroll in an exceptional program that is flexible and budget-friendly. Tuition under $24,000. Pay only $375 per month. 8-week terms. CCNE-accredited.
The health care landscape is always changing. Technological advances such as artificial intelligence and telehealth/telemedicine offer glimpses of incredible possibilities for more efficient health care. Because they are always learning, CCMs understand these developments.
EHRs can be great. But they are not perfect. While they convey facts very well, they often miss out on the bigger story behind the facts. Sometimes, nurses have to end up checking boxes that don't totally fit the situation. Is that lying? Share your thoughts!
Many factors make identifying the perfect diet both complex and difficult. It is individuality that determines what may be right or wrong for us nutritionally.
What Sx are you excluding? Direction from our local Health Dept (OH) is to exclude for ANY symptoms, and then goes on to list eeeeverything under the sun. I mean, EVERYTHING. Congestion, runny nose, headache, nausea, fatigue...
Basically I have been working at a REtirement home since the pandemic started and I have been working on the floor giving medications assessing residents etc...